Ok, so we've technically had the new stove for a couple of months, but the Ikea Fintorp system is new.  Let me start with the stove by going all the way back to when we bought the house. The kitchen came with this pretty decent black stove. We always knew we'd replace it, but decided to save up our money and work with this one for a while.
Then the oven died conveniently right after we received our tax return back. The hunt was on for a new stove. This was actually a really difficult decision for us because there were so many on the market. We knew we wanted something industrial looking, but we didn't have a Viking kind of budget. Finally we narrowed down what we really wanted to:
slide-in electric range
large stainless steel knobs
no lip around the stove top (for easy cleaning)
the less black and more stainless the better
We were hoping to find a scratch and dent, but it wound up that our wants severely limited our options. In the end we choose the Samsung 30 in slide in (model #NE58F9500SS) basically because we liked how it looked the best.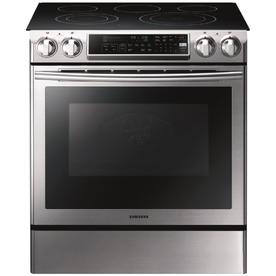 It was actually the knobs that sold us. It was really difficult to find an electric range with knobs. Apparently they are all touch screen these days.
We snagged it on President's Day for 10% off at East Coast Appliance, but it still ran us about $1800. That was about $800 more than I wanted to spend, but in the end we decided to go with the stove we really wanted rather than a cheaper one that we'd quickly regret, So far we love it!
Once we got the range installed; however, we quickly ran into another problem. A really white wall!
Typically with a slide in range people create some type of inset in the tile behind the stove to break up the large surface area. Unfortunately, when we installed our herringbone subway tile we didn't know that we would eventually be purchasing a slide in. So, there sat this big white space just mocking me for months. Luckily while making a trip back from Northern Virginia I stopped at Ikea and immediately spotted the solution! The Ikea Fintorp series is a rail system (much like the Grundtal which we had in our last kitchen) that allows you to mix and match components to create a custom organization center.
Not only did it fill in the black space above the stove, but it's also super functional.  I choose to go with the large wire basket with handle, the flatware caddy in white which holds a Fejka artificial plant (that totally looks real), and a Rort spoon and fork set held up by Fintorp black hooks. I also upgraded our oil dispenser and salt and pepper grinders since they are now on display.
Total we spent about $44 on this whole system, and it's worth every penny! Which is great since we had to drill into the tile to hang it.  I also decided that the range hood with all the cabinets was a little too white, so I broke it all up with a mint monogram that I painted then distressed using acrylic paint. Still not sure if we love it, but it's staying for now.
This area of the kitchen is officially done which means the kitchen itself is almost done! Next up is refinishing the kitchen stairs, a built in banquette for the bay window , and a little bit of decorating!
For now; however, I'm just enjoying that our kitchen no longer looks like this: