[pinterest] We have this long wall to the left when you first walk into our living room that has always been difficult to decorate. I decided that a credenza would be nice as it would create a dropping off point for when you first walk in since we do not have a foyer, and it would create more storage.  I was looking for 3 things in the new credenza: color, legs, and detailed trim work. I love these blue ones below from Vintage Chic Furniture on Etsy but the $450 price tag wasn't really in the budget .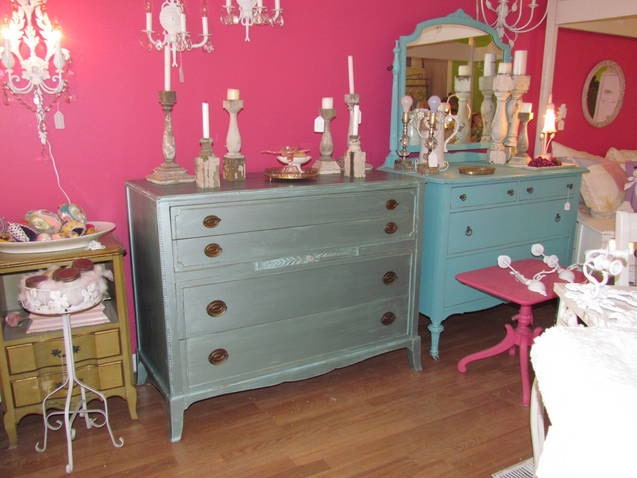 So I headed on over to Craigslist and found this beauty for $20!
I like that it doesn't sit flush with the floor, and I love the molding around the bottom and around the top 3 drawers. It had a little damage to one drawer and it appears as if a dog had been chewing on the bottom but it is solid wood and did I mention it was only $20?! The only problem is the color, but that's easily fixed. I removed all the hardware and gave the whole thing a good sanding and then primed it white. I wanted a high gloss finish so I went to Lowes and got a quart of Valspar Anti-Rust Armor Oil Based Gloss Pastel Base. I used a small foam roller to get a really smooth finish. And Voila!
We turned this dresser into a high end credenza by painting it a high gloss blue and swapping out the hardware.
As you can see I also replaced the hardware. Originally I was going to keep the old brass ones but they just weren't jiving with the room.  Seeing as I needed 15 handles this is where the project could have got very expensive. For the bottom six drawers I went with a simple brushed nickle design that you can pick up at Target for $20 for a 6 packs. The two end pulls on the top drawer also came from Target in a 4 pack for $15. The middle top handle came from Lowes for $3. Here's a close-up on the pulls which were really my inspiration for the hardware.
I also dressed up the inside of the drawers with some wrapping paper I found at Target. I just cut them to size and attach them with spray adhesive.
Cody added a left over knob that he found in the garage to the side of the credenza so that I can hang up my purse. Apparently he finds my habit of throwing it on the floor annoying.
And finally, my favorite feature we added to the credenza was a media portal. OK it's really just a hole in the back of the drawer to run our chargers through, but now we can charge our cellphones out of sight!
And here's one last before and after shot.
Before and after of a $20 Craigslist dresser turned living room credenza.
More to come on my dilemmas of decorating the top. Have you ever bought an ugly piece of furniture and given it a make-over? What features would you like in your furniture that would make it more functional?